Our latest exclusive PlayLink title Chimparty is out on PlayStation4!

Publisher:   Sony Interactive Entertainment Europe Developer:   NapNok Games Platform:   PlayLink for PlayStation®4 (PS4™) Genre:   Social / Party Launch Date:   November 14th, 2018 Age Rating:   Pegi 3 Price:   $ 19.99 / £ 15.99 / € 19.99 Chimparty is a hilarious party game for up to four players with pick-up-and-play one button mini games, easily controlled through a smartphone. Play as one of four mischievous chimps, doing what chimps do best, monkeying around! Travelling across time and space, these gullible gibbons find themselves encountering everyone from pirates to aliens in their wacky travels across the universe. Part of the PlayLink for PS4 range, Chimparty lets players monkey around both on and off screen, bringing the play to the couch. Using a smartphone or tablet as a controller, players can sling, swing, jump and launch their way to victory, customizing their chimp along the way.
An Easy Way to Play – With a simple one-button control scheme on a smartphone or tablet controller, Chimparty lets players jump right into the action and bash their chimp to victory to become king or queen of the jungle.
Monkey Wardrobes! – Every monkey is different! Players can customize their chimps and pick from an array of hilarious hairstyles, hats, gloves and shoes with over a thousand combinations!
Packed Party – With 90 levels, in 18 mini games, across 5 wacky worlds, the chimps will find themselves in a crazy journey across haunted castles, pirate harbours, prehistoric jungles, and even an alien planet…
Family Friendly Fun – In bite-sized mini games full of squashed bananas, tumbling troops and other mad moments, players of all ages are guaranteed to find moments of hilarity with these clumsy chimps.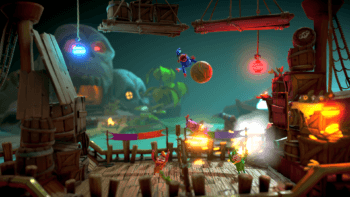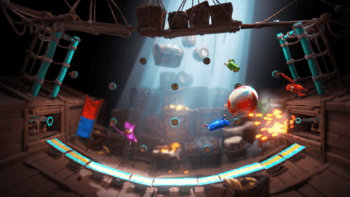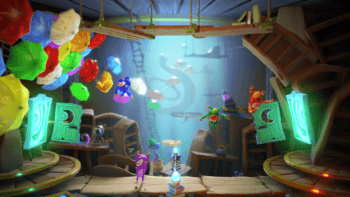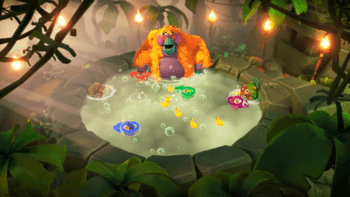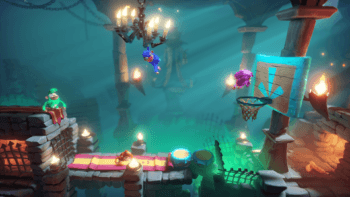 ---